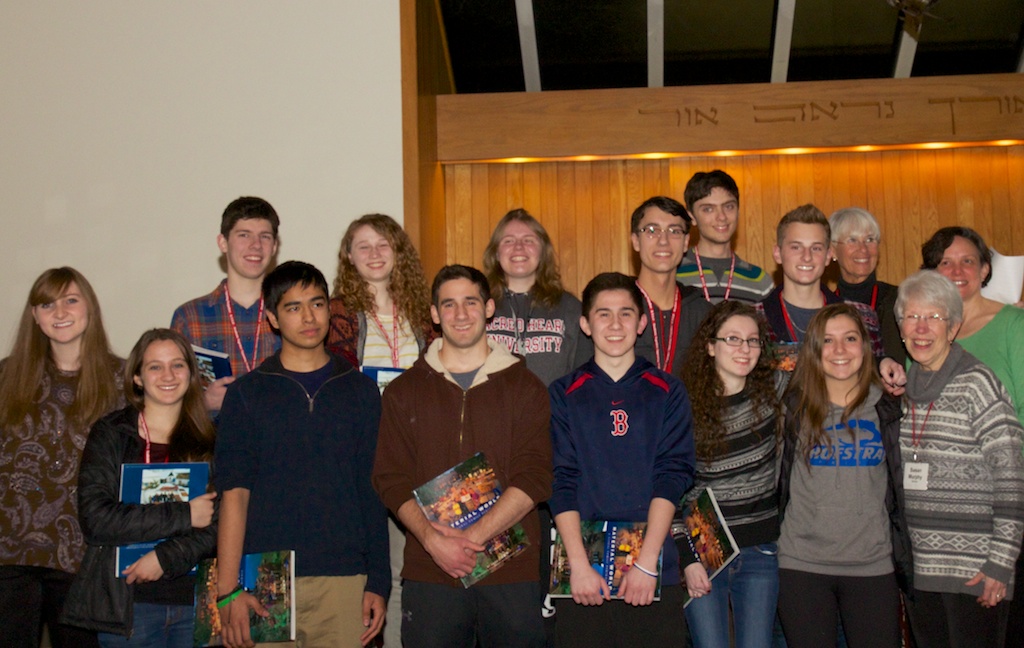 Over sixty teenagers and their parents gathered at Congregation Beth El earlier this  month to celebrate the closing of the twenty-fifth year of S.T.O.P., Students Together Opposing Prejudice.
Sheila Goldberg and Susan Murphy can't believe that it's been twenty-five years since the anti Semitic and racial slurs written on a bathroom wall in a Sudbury elementary school changed their lives. In an attempt to bring the community together after this event, these women from Congregation Beth El and Our Lady of Fatima respectively, along with Rev. Avis Hoyt-O'Connor from Sudbury United Methodist Church, decided to organize a movement that would educate 7th and 8th graders from many religious backgrounds about prejudice and stereotyping and teach them the skills to respond to intolerance.
The result of those efforts became the S.T.O.P program, which stands for Students Together Opposing Prejudice. The seven-week curriculum is rotated among different houses of worship, so that the participants will understand and respect each others' faith and get a feel for the religious diversity that makes up the community. The sessions include games, skits, videos and small group discussions that help members recognize discrimination, empower them to celebrate each person's uniqueness.
When a 7th or 8th grader joins S.T.O.P., the commitment is for only one year of seven weekly sessions from January to March. Many young people choose to stay in the program. After three years, they become junior facilitators and then full facilitators. As a result, the small groups are facilitated entirely by older teens that have been in S.T.O.P. since middle school.
This year, as part of the closing celebration, S.T.O.P. honored fourteen high school seniors who have been in the program for five or six years. All the students received a S.T.O.P. booklet for the year 2015. This booklet is comprised of the cartoons drawn by the members, depicting various ways in which prejudice happens and ways that teens can respond. This booklet also contains the text of five Leadership Talks presented by five older teens about their experience of prejudice and discrimination and what they learned from the experience. Because this was the 25th year anniversary, this booklet also featured a sampling of cartoons from the S.T.O.P. members over the 25 years.
While many young teens are recruited through their religious institutions, young people who are not affiliated with any religious organization are welcome to join. S.T.O.P. Because some congregations draw their membership from a wide geographic area, members are also from a number of communities outside of Sudbury such as Wayland, Weston, Concord, Stow, Newton, Brookline, Framingham, and Marlborough.
In 2012, several communities in the Worcester/Shrewsbury area, began their own chapter of S.T.O.P. Those wishing to have their religious community be part of the Sudbury S.T.O.P., or other communities wishing to start their own S.T.O.P. program should contact the S.T.O.P. through the email or web site below for more information and support.
Meanwhile the S.T.O.P. Program in Sudbury is already planning for the coming year. "Since 1990, when only three houses of worship initiated S.T.O.P., we have grown to include six congregations in Sudbury as well as Shir Tikva and the Islamic Center in Wayland," said Goldberg.
What began as an initiative to educate young people about prejudice, has evolved into a leadership development program, turning middle school children into confident, poised, articulate older teens.
"The final session where we honor these incredible outgoing seniors is both joyful and sad for all the adults who have known them since 7th grade and watched them grow and mature," said Murphy.